The Constant Gardener (2005) - Review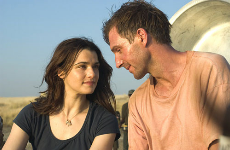 This movie turned out to be nothing like the way I had envisioned it. I had never seen any trailers for it; prior to watching the film, I had only seen a movie poster with a man wielding a Beretta. "Oh, it will be a slick spy film set someplace in Europe, with ample ammounts of gunplay", I thought as I popped in the disc.
The Constant Gardener
was slick, but other than that it was completely different from my expectations.
If anything, this movie is more a love story than a spy film.
The Constant Gardener
follows
Justin
and
Tessa Quayle's
relationship from when they first meet, to their efforts to aid those in Africa. Justin is a low level diplomat from Britian, and Tessa is a humanitarian working to help the disease ridden. Tessa's work is extremely secretive, and she doesn't share many details about her job with her husband. When she is suddenly killed on her way back to home, Justin realizes that Tessa was targeted by a large drug company who didn't want her snooping around
the drugs that they were giving to infected Africans. Justin makes it his mission to find out what happened to his wife, and to bring those responsible to justice.
At the outset of the film, Tessa is introduced as an outspoken activist who shouts out accusations about the United States during a lecture. Because of this I was afraid that the movie was going to be one of those preachy films that blames the U.S. for everything, but for the most part it wasn't. Mainly it blamed Britian and greed for the evil things occuring in Africa, with occasional sideswipes at America. The one scene that really got to me was a newscast when an African woman was basically blaming the United States for the AIDS epidemic, but it was only a 30 second scene of a two hour film, so I'll let it slide.
Athough I was expecting a ton of action, and there was none (I kept waiting for Justin to use that beretta, but it never happened), and although the viewer will basically know who killed Tessa very early in the movie, it made watching the plot unfold no less entertaining to watch. I thought that the movie was very well produced, and the visual style evoked that of
Man on Fire
, but in this case it was actually done well. The ending, which I normally might find overly dramatic, worked well with the movie.
I don't know whether "The Constant Gardener" was a good title for the film, however. It is original, and Justin does work in the garden obsessively, but the movie is about Tessa. Even though she dies early in the movie, the rest of the film is still about her life's work and the circumstances of her death. Still, this is only nitpicking, and the title of a movie doesn't really matter, I guess. Especially when the movie is as good as this one.
Film Filter Rating: 3.5 / 4
Check back in a few days, I'll post some downloadable scenes rom the movie.